Half of Premier League clubs could have played in empty stadiums and still made a pre-tax profit in the first season of the current broadcast deal, BBC research has found.
In 2016-17, during which clubs benefited from a record £8.3bn in global TV revenue, matchday income contributed less than 20p in every £1 earned by 18 top-flight outfits.
The number of clubs that would have recorded pre-tax profits even if matchday income was taken away rose from two in 2015-16 to 10 in 2016-17.
Dr Rob Wilson, a sport finance specialist at Sheffield Hallam University, said the previous £3.018bn broadcast deal struck in 2012 signalled a permanent change to top-flight football as a business in England.
"That is when the focus really went toward generating TV money rather than matchday ticket receipts," he told BBC Sport.
"The revenue structures of those clubs are fairly well there to stay now.
"When you get a £120m payout from the Premier League for kicking a ball around, you can play in an empty stadium if you need to.
"From a revenue generation perspective, clubs do not rely anymore on matchday ticket income."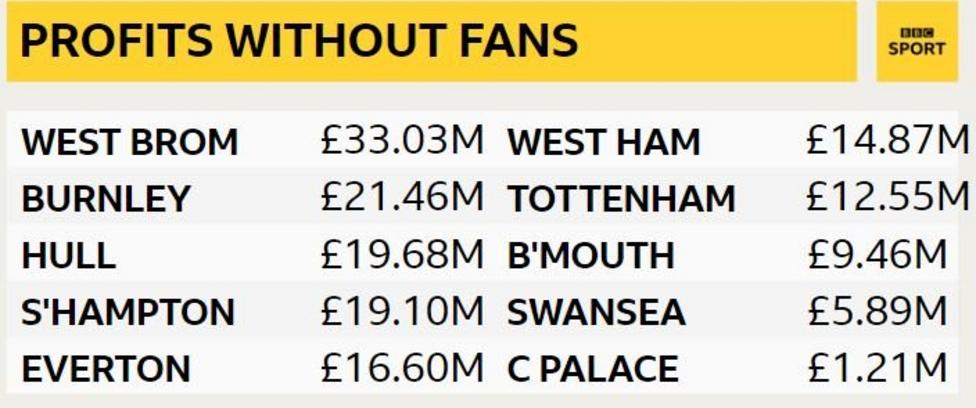 Bournemouth, with the smallest ground capacity in the Premier League of just 11,450 and who intend to build a bigger stadium, had a turnover of almost £136.5m in 2016-17, with £5.2m from tickets. That is less than 4p in every £1 of its income for the season.
So just how important is it to have fans coming through the turnstiles?
"I'd say they are the most important element," said Football Supporters' Federation chair Malcolm Clarke.